As New York City's economy has evolved over the past decade and is now more than ever dictated by young, creative, technology- and media-oriented companies, so has the nature of the workplaces occupied by the city's office tenants. At this point, the buzzwords and phrases have become familiar to those in the commercial real estate market: "open" office plans with "high ceilings," "column-free" space and plenty of "light and air," as well as layouts enabling a "collaborative" work environment.
Buzz or not, the fact is that companies these days demand something unique from their workplaces and the buildings they call home. And whether it's designing an office for a tenant that meets those demands or helping landlords better position their properties to serve such needs, the onus falls on commercial interior design firms like MKDA—the prolific, family-run outfit led by principals and brothers Michael and Jeffrey Kleinberg—to bring that vision to fruition.
"Across the board, everyone is looking to us for a different type of workplace," Michael Kleinberg, the president and a partner at MKDA, said recently at the firm's Flatiron District headquarters. "Whatever we design is going to affect how you, how anyone, works all day. The environments that we are creating are assisting people to be more productive, more creative, more efficient."
MKDA has earned a reputation as one of New York City's most active office interior design firms, with more than 300 projects either completed or in some stage of development since the start of 2017. The company has a 60-strong team of designers and employees across its offices in New York, Miami and Stamford, Conn., who do work on behalf of tenants ranging from more traditional law and financial services firms to upstart tech and marketing companies.
Additionally, major property owners including Vornado Realty Trust, the Durst Organization and the Blackstone Group-owned EQ Office (formerly Equity Office) have relied on MKDA to refashion their properties to increase their appeal to contemporary tenants, from sleekly crafted prebuilt office suites to renovated lobbies and tenant amenity spaces.
MKDA is approaching its 60th anniversary—"We're probably one of the longest-running shows around," Michael Kleinberg noted—and has come a long way from its origins in 1959 when Milo Kleinberg, Michael and Jeffrey's father, founded the firm as Milo Kleinberg Design Associates (MKDA). The elder Kleinberg, now 92 years old and MKDA's principal emeritus, initially geared the company's business around serving Garment District fashion tenants who needed buildouts of their showroom and office spaces.
"He did work all over [the Garment District]—1407 Broadway, 500 Seventh Avenue, 512 Seventh Avenue, 1400 Broadway, all of those buildings in that area," recalled Jeffrey Kleinberg, a partner at the firm who, at 65 years of age, is four years Michael's senior. "When 1411 Broadway went up [in 1969], he was close with Chanin [Organization, the building's developer], and he was able to do pretty much most of the showrooms in that building."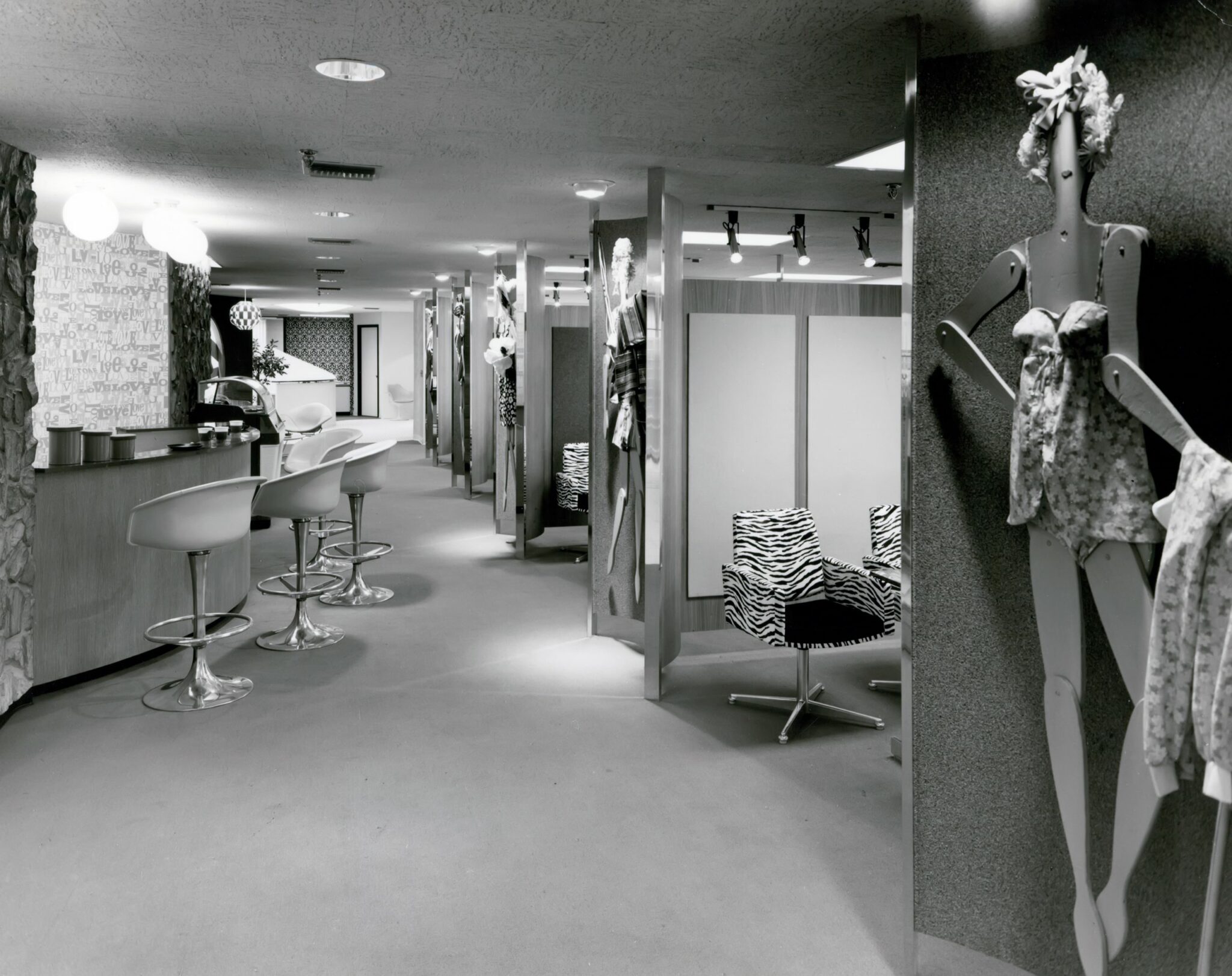 Jeffrey Kleinberg described his father as an "all-in-one" architect and entrepreneur who had both the design chops and business nous to build up his very own operation after years working for other design firms. "He had the talent to do design and he understood interior design, and he knew how to run a business—he knew how to go out and get business; he was a great business development guy," Jeffrey Kleinberg said.
Milo Kleinberg also established the niche that, to this day, represents MKDA's bread-and-butter business. Back in the late 1950s and early 1960s, "There weren't a lot of firms that just did office planning," Jeffrey Kleinberg said. "There were architectural firms, and they had decorators and maybe [interior] designers working for them, but this was one of very few firms that did just office planning. So he was really at the forefront."
Going with their father on walkthroughs of Manhattan skyscrapers and constantly being around the family business was instrumental in the brothers' own career paths—though it wasn't simply about following in their father's footsteps. Both Kleinbergs noted a fondness for building model cars, boats and planes when they were kids growing up in the Bronx neighborhood of Riverdale.
"I think both Michael and I knew this was what we wanted to do," Jeffrey Kleinberg said. "You hear about family businesses where kids don't know what they want to do and say, 'Alright, we'll work for dad.' It wasn't like that. Even when we were younger, my father used to bring us into the office, and it was very exciting."
Michael and Jeffrey Kleinberg eventually joined the firm in the 1970s as designers in their own right, after earning bachelor's degrees in architecture at the City College of New York and the New York Institute of Technology, respectively. "It was a totally different time—everything was drawn manually by hand," Michael Kleinberg recalled. "Today, technology is a huge part of what everybody [in architecture and design] does." He also said that Jeffrey Kleinberg's son, Jarad, who serves as MKDA's director of operations, is "bringing us into another age" by spearheading the firm's adoption of the latest cutting-edge design software.
Indeed, MKDA continues to be a family affair, with the third generation of Kleinbergs now actively involved in the business. All three of Jeffrey Kleinberg's children work at the firm; in addition to Jarad, his daughter Marissa is a resource librarian who helps with design schemes, while his son Matthew works in marketing and business development out of MKDA's Miami office. Meanwhile, Jarad's wife, Stacey, is a senior interior designer in the firm's New York office, and Michael Kleinberg's son, Joshua, has interned at MKDA and is currently studying architecture at the University of Miami.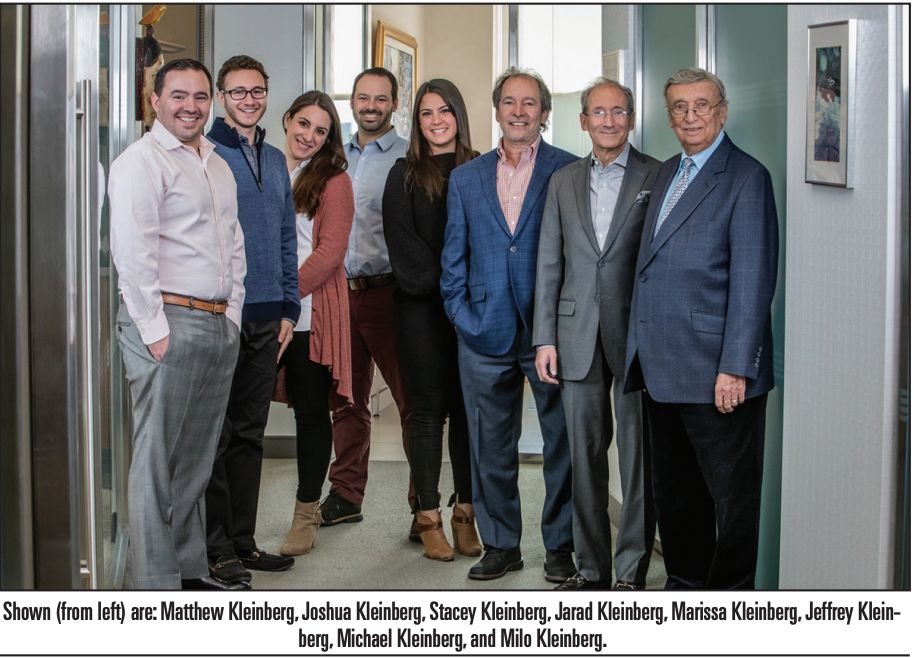 "The talent genes are very strong," Jeffrey Kleinberg wryly pointed out. But on a more serious note, he added that the firm's corporate culture is embedded in familial values—whether those working at MKDA are related by blood or not. "People would ask me, 'What makes [MKDA] different?' and I'd say, 'We're a family company.' But we're not just blood family, we're all family back there in the studio, and we make sure everyone feels that. That's the difference between our firm and some of the other firms."
That approach, as well as a business strategy that emphasizes "sustainable" growth, has been imperative in ensuring the company remains strong as it prepares to enter its 60th year, according to Michael. "In 2008, when the crap hit the fan [during the financial crisis], some of our friendly competitors who were larger than us laid of 10, 20, 30 percent of their people," he said. "We laid off zero—we did not let anybody go. And that's how we operate."
At the same time, MKDA has expanded over the past decade via new satellite offices like its one in Stamford, which opened in 2007 with an eye to serving clients in the Connecticut and Westchester County, N.Y., markets—including landlords like George Comfort & Sons, which owns properties in those markets in addition to its portfolio of Manhattan office buildings.
The firm followed that up with its Miami office, which opened in 2013 and—as well as focusing on MKDA's traditional realm of commercial interiors—is charting new territory for the company by venturing into the realm of structural, base building architecture. "There, we have synergies with some of our landlord clients here, like Brickman and RedSky [Capital]," Michael Kleinberg said. 
While the Miami office has pursued everything from an adaptive reuse retail project in the city's Design District to a proposed 50-key ground-up hotel development in Wynwood, Michael noted that in New York, MKDA has "so much going on that we're sticking with the interiors." 
Sticking to office interiors in New York would appear to be a safe bet, given the scope of the firm's business in the city and the popularity it has earned with a diverse array of landlords and tenants alike. EQ Office is one property owner that has turned to MKDA on multiple occasions to handle projects at properties including 114 West 41st Street in Midtown (where it designed prebuilt offices and a ground-floor tenant amenity lounge) and 44 Wall Street in the Financial District (where it helmed an expansive, high-end prebuilt program across multiple floors).
At 44 Wall, which EQ Office acquired in 2016, the landlord was seeking to "creatively transform the tower in a way that would distinguish it from its Financial District neighbors and make it the preferred destination of top creative and tech companies," said Scott Silverstein, a leasing manager at EQ Office. Silverstein said the landlord selected MKDA to design the prebuilt spaces because of the design firm's "forward-thinking, hands-on" approach, as well as its "keen desire to think outside the box."
The selection paid off; prospective tenants "loved the design," according to Silverstein, and EQ Office secured leases for each prebuilt floor it had available at 44 Wall Street. MKDA's designs, he added, "played a crucial role" in the project's success.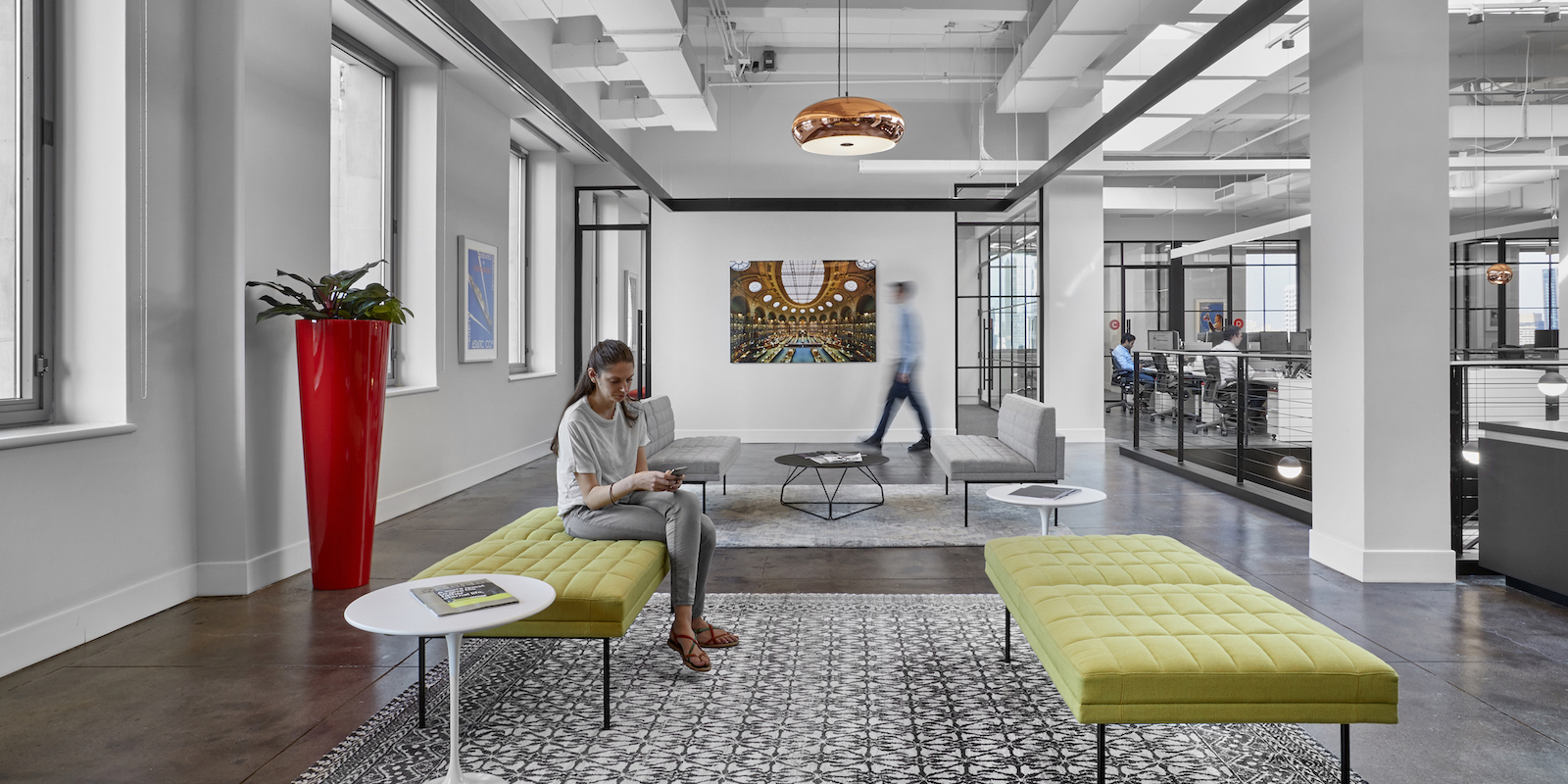 On the tenant side, the firm's clients come from a wide range of industries. It recently crafted Winton Capital's 35,000-square-foot duplex penthouse space at 315 Park Avenue South—which features a sophisticated yet modern design somewhat atypical of an investment firm—and also has clients in the increasingly prevalent tech, advertising, media and information (TAMI) sector. One such client is online content marketing platform Taboola, which retained MKDA to design its new 50,000-square-foot offices at 1115 Broadway in the Flatiron District.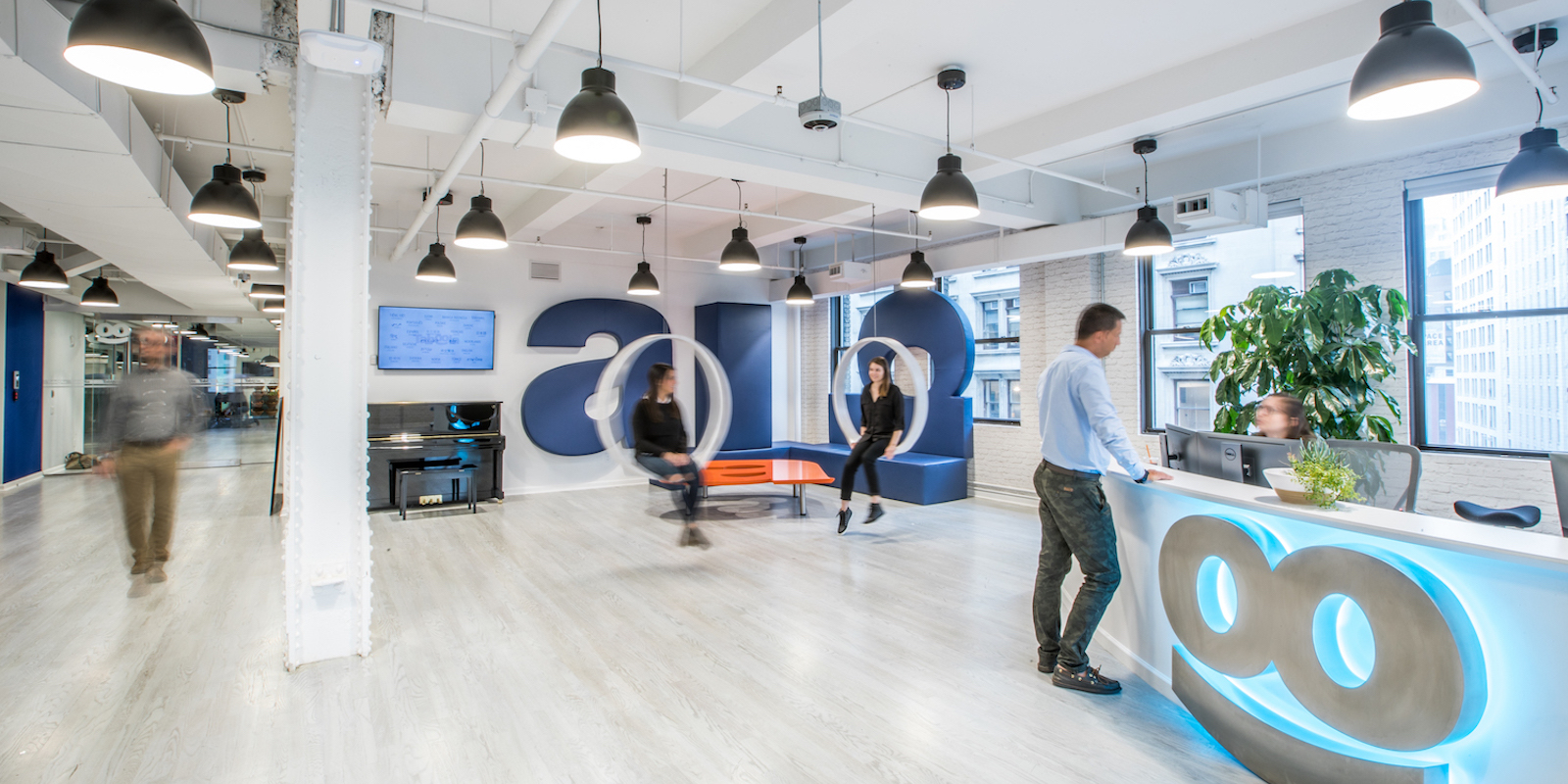 "Our idea from the beginning was that we wanted a place where people would want to work in," according to Hila Gutfeld, an administrative director at Taboola. "Every idea that came to my mind, they found a way to do it with me."
The result was a colorful space featuring ample communal spaces; contemporary furniture and lighting fixtures; a sizable kitchen, cafeteria and lounge area; and plenty of Taboola-branded signage that gives the office a distinct feel. "We've always tried to maintain that anywhere in the world you go and walk into a Taboola office, it's a Taboola office with the same elements," Gutfeld said. MKDA, she added, "definitely helped us" attain that goal. The company moved into its new offices last year.
While younger, tech- and media-oriented companies undoubtedly have different requirements than more traditional, legal and financial industry tenants, Michael Kleinberg said that the lines have blurred between the two. He cited one financial sector client, an accounting firm, which retained MKDA to overhaul its offices "because they want to transform how they work."
"Even the stodgy old law firms and accounting firms realize that in order to attract young people, they need something that creates a bond between people who work together," he said. Michael Kleinberg added, however, that "talent retention and culture" is only 50 percent of the calculus tenants must make in evaluating their space. "The other 50 percent is the bottom line," he said. As companies increase their density to reduce costs, they're looking to use every square foot as efficiently as possible.
Landlords, in turn, are seeking similar value on a property-wide scale—and they turn to MKDA and its designs, Michael Kleinberg said, in order to unlock that value.
"Whether you're a family firm or you're Blackstone, you want to get the highest rent possible and you want 100 percent occupancy," he said. "How do you get there? You get there by creating space that's flexible, that's interesting, that's up-to-date."
Source: Commercial Observer